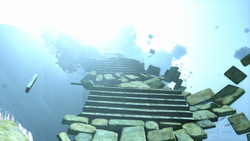 Whispers from the Void, By Barnoli Mulani [2] is a book found in Dishonored 2.
Transcript
Treatise on the Physical Existence of that Foreign Realm [Excerpt]
---
These little glimpses of the Void in dreams or described by those awoken from comas, are not limited to a select few. In my interviews, I've gleaned that there is not a single citizen without such visions, at one time or another!
This then, must be a real place, not folklore or mass delusion. Perhaps it exists deep below the earth, or far above it. Perhaps it is right next to us, but hidden. Some trick of the light, or wondrous curtain bars us from fully knowing it. And we all but wait for a natural philosopher to unlock the phenomenon, to show us how to see it at will.
But when so revealed it will not be a fearsome place any longer, not the distant and special realm described in the myth of the Outsider! It will be strange, yes, even unsettling. But nonetheless it will be a new realm for us to explore and eventually conquer.
What new treasures await us there? Are the lakes made of liquid diamond. [sic] The clouds of weightless silver gas? And what things we would learn?
Location
In Dishonored 2, this book can be found:
Community content is available under
CC-BY-SA
unless otherwise noted.