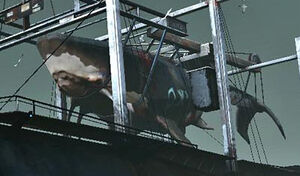 Whales are leviathan-like creatures in Dishonored, which are hunted for their blubber, meat and bones.
Characteristics
They have many flippers running down their sides, and tentacles hang from their maws. Whaling trawlers poach them in great numbers for their blubber, which is processed into oil to be used as fuel, and their bones are also prized for the creation of runes and whalebone charms.
It would appear that whales may have some kind of spiritual or symbolic connection to The Outsider judging by the way The Heart refers to them, often using terms such as "the great ones" to describe the creatures. This is hinted at further when overhearing a conversation between two Overseers in the mission High Overseer Campbell where they discuss the outsider's true form and suggest he may take the shape of a leviathan.
Gallery