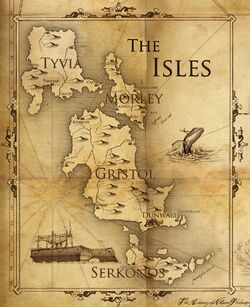 The War of Four Crowns was a conflict between the four Isles that ended on 14th Day, Month of Songs, 1625, with Gristol emerging victorious. Shortly afterward on 2nd Day, Month of Nets, 1626, the Empire of the Isles was created and the last king of Gristol, Finlay Morgengaard VI[1], was crowned as the first Emperor, becoming Finlay Morgengaard I.[2][3] In the same year, he abandoned his ancestral home, Castle Morgengaard, made Dunwall the new capital and established a parliament there.[1]
Trivia
References
↑ 1.0 1.1 Dishonored: The Return of Daud, Chapter 14
Community content is available under
CC-BY-SA
unless otherwise noted.