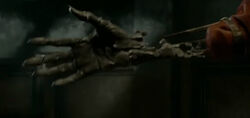 Voidrite, more commonly known as Void Stone, is a volatile matter found in the Void. When combusted, voidrite releases a yellow gas which grants a gravity-defying property, and can also be used as fuel, providing exceptional power. The Leviathan Company discovered this while studying samples taken from the Void rift in Alba, and invented a type of flying machine that make use of these properties. Since then, they started to build large number of such airships, thus needed large quantity of voidrite to fuel their fleet. Being exposed to voidrite, however, is dangerous as it dulls the mind and transforms the body. Thus the company resorted to kidnapping construction workers, forced them to work as miners inside the Void hollow. Not having protective gear, the miners were gradually turned into supernatural creatures similar to the Envisioned.
Trivia
"Voidrite" is a term used by the Leviathan Company.
There are various objects in the frachise that are actually made of voidrite.
Gallery
References
↑ Dishonored: The Veiled Terror, Chapter 5
↑ Dishonored: The Veiled Terror, Chapter 3
Community content is available under
CC-BY-SA
unless otherwise noted.