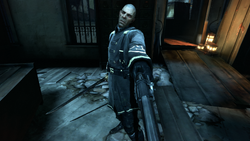 Victory Letter
is a written note found in
The Knife of Dunwall
.
Transcript
Overseer Pike,
I have taken the commerce building. A temporary headquarters has been set up in a nearby structure. My men are dealing with a number of captives that should prove to be very informative. We have achieved a total victory here, catching the enemy by surprise. The plans for a larger coordinated assault were obviously unnecessary. I am confident that Daud will show himself and will be in our custody shortly.
Overseer Leonard Hume
Location
It can be looted from Overseer Hume in Daud's office during the mission, The Surge.