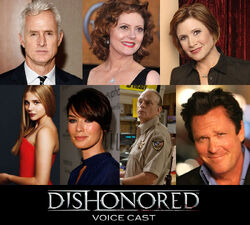 Arkane Studios made a big splash today when they announced a stunning all-star voice cast for Dishonored.
Academy Award winner Susan Surandon joins Dishonored as Granny Rags, the blind and destitute former leader of Dunwall. The city of Dunwall itself speaks, in a way, through loudspeakers scattered around the city. The esteemed and iconic Carrie Fisher voices the governments propaganda broadcast throughout Dunwall.
The prolific Brad Dourif plays the role of Piero, the inventor behind Corvo's Mask. The always suave John Slattery of Mad Men fame voices Admiral Havelock, a loyalist support, and Michael Madsen voices Daud, another mysterious assassin that lurks around Dunwall.
This amazing lineup also features the incredibly talented young-actress Chloë Grace Moretz playing Lady Emily Kaldwin, the rightful heir to the throne of Gristol. Her caretaker Calista is played by Lena Heady, the devilishly talented Cersai Lannister from the incredibly popular HBO series Game of Thrones.
Topping it all off is Daniel Licht who is composing Dishonored's score. His music work includes Dexter, which features a fantastic and often chilling score.
I, for one, am incredibly impressed by the line up. What do you all think of the voice cast? Do you they seem to match the characters they portray?
Community content is available under
CC-BY-SA
unless otherwise noted.