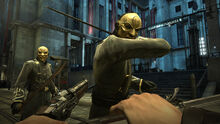 Just a regular person trying to have fun on Dishonored
Bio
Amon is an Overseer that serves within the Abbey of the Everyman.As a child Amon loved to play games with his friends until one faithful day when the Overseers came for him. They took him to the abbey and trained him in their ways until he was age sixteen in which he became a full Overseer.Amon always quotes the seven strictures before he executes his opponents.
Amon is not really an Overseer, but a male Pandyssian witch disguising himself as an Overseer in a yet-unsuccessful attempt to rally the city under his philosophy and put an end to all religion of any kind. 8-Bit Jack (talk) 04:20, May 25, 2013 (UTC)
It is widely known that Amon has a beautiful speaking voice, and people come from far and wide to fight him, just so they can hear him speak, as he recites the Seven Scriptures, before they die. Essie Essex (talk) 04:39, May 25, 2013 (UTC)
Community content is available under
CC-BY-SA
unless otherwise noted.