The.Outsider' Message Wall
Welcome to my message wall. Leave a message here if you need to contact me. I will try to get back to you as soon as I can. If you need to get a hold of me immediately, I can usually be found on the Assassin's Creed Wiki when not active on here. Please leave a new message with a new heading if this is concerning something new.
Leave a Message
.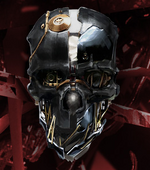 "There is nothing that keeps men at any one moment out of the cold and shivering Abyss, but the vigilance of the Abbey."
This user is an administrator of Dishonored Wiki. Their purpose is to lead the community and staff of the wiki, and to make sure it stays in perfect shape, through all means necessary.
Any questions and requests for assistance should be directed at this user's message wall.
"On this land I am torn. Part of me wants to fight and repel all outsiders. The other part of me is the outsider."
-
Connor
The.Outsider is an emissary of the Void. His station and power were obtained when, following the death of his friend Johnny, Ponyboy fell into despair and was merged with the void. This is why the Abbey teaches its members that they must "Stay golden", lest they become magical meddlesome whales. 8-Bit Jack (talk) 05:35, June 25, 2015 (UTC)
Community content is available under
CC-BY-SA
unless otherwise noted.