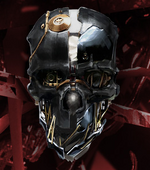 "There is nothing that keeps men at any one moment out of the cold and shivering Abyss, but the vigilance of the Abbey."
This user is an administrator of Dishonored Wiki. Their purpose is to lead the community and staff of the wiki, and to make sure it stays in perfect shape, through all means necessary.
Any questions and requests for assistance should be directed at this user's message wall.
Hi everybody!
Thanks for dropping by to check out (and hopefully edit and expand) the wiki!
I'm Makatak, the creator of this wiki. Feel free to edit, add to, and expand the wiki! I'd appreciate it very much. Drop me a message if you have any questions, concerns, compliments, comments, complaints, or anything else!
I'm looking forward to meeting you all,
Makatak
==Wiki Rules==
Community content is available under
CC-BY-SA
unless otherwise noted.