"Die Ratte symbolisiert filmische Redundanz"
—Ralph Wiggum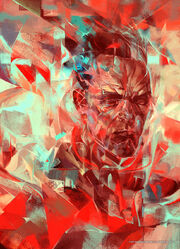 I am Grizzhly and have been a Dishonored fan since I saw footage of the game's intro mission on Youtube. I have played the game multiple times since, prefering the non-lethal routes while doing so. While I enjoyed Dishonored 2 as well, I felt as if something were missing although I can't exactly say why.
Some of my favourite characters
Artwork I like
Friendly Facts
On the run and fearing for his life after committing unspeakable crimes on the Villains and Game of Thrones wikis, Grizzhly realised his only chance at refuge lay in hiding amongst the misfits on the Dishonored wiki. Now he bides his time, waiting for the moment when he can move on... or strike back. Mice Overseer (talk) 00:57, November 6, 2016 (UTC)
Community content is available under
CC-BY-SA
unless otherwise noted.