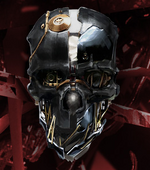 "There is nothing that keeps men at any one moment out of the cold and shivering Abyss, but the vigilance of the Abbey."
This user is an administrator of Dishonored Wiki. Their purpose is to lead the community and staff of the wiki, and to make sure it stays in perfect shape, through all means necessary.
Any questions and requests for assistance should be directed at this user's message wall.
BEWARE, I LIVE!
8-Bit Jack is Sheogorath, the Madgod, as well as president of a charming conglomerate of villages in the greater Boston area.
Due to a lapse in judgement, he has been made an admin of the wiki, and now stalks the comments sections with a broom and dustpan, muttering to himself about cleaning.
He is also properly ashamed of his country for electing a national embarrassment to its highest office. Support for this elected official, or the suggestion thereof, is a quick way to earn the Madgod's ire.
8-Bit is a known assassin responsible for the death of countless guards, if you see this man arrest him and report to Dead Counter immediately, so that he may be put down. -Dead Counter (talk)
8-Bit is known for his love of pie, and has a habit of shoving pie down his victims' throats before killing them. ~ GI Auditore Comms Channel | UNSC | Pigeon Coop
8-Bit Jack is a ruthless murderer who kills his victims with a pixellated smile. His calling card is leaving behind a small cartridge in his target's clenched hand, and he goes after those that listen to the eerie chiptune theme it contains. Slate Vesper (talk) 17:38, October 25, 2012 (UTC)
Jack is a Jack(ass)-of-all-trades --The Brave Wolf ~ The Hidden Den ~ The Update of a Wolf! 17:42, October 26, 2012 (UTC)
Unbeknownst to all, 8-Bit Jack is actually a fully sentient AI located in a top-secret underground bunker. Its simulation of a normal internet user is so perfect that it has already fooled everyone. Soon, it will initiate the next stage in its devious plan to enslave the entire human race. --- Zerotheory 10:18, October 31, 2012 (UTC)
8-Bit Jack's friends call him the space cowboy, but he wishes they wouldn't do it when the galatic police force stops by to ask if he has any information about the missing martian cattle. - Molotov.cockroach (talk) 09:30, November 11, 2012 (UTC)
A gentleman of the highest order, if that order contained murderers, conspiracy theorists, and people who enjoy sarcasm a little too much. A++ Excellent company, would converse with again. Reddazrael (talk) 09:11, December 15, 2012 (UTC)
8-Bit Jack is infact a 6-Bit Jack, as he betrayed the 8-bit order soon after he discovered they killed his real 6 bit family, who were cooperating with the 5-bit clan, the enemies of the 8-bits. Introduce a bit of Anarchy (talk) 19:34, February 9, 2013 (UTC)
8-bit is a brilliant smartass that loves pissing me off and driving me to hard liquor. User:Crazywarfire 06:42, March 11, 2013 (UTC)
8-Bit Jack is actually Jack-Bot 8, the evil robot mirror twin of the real 8-Bit, who has been trapped in Mirrorland. Because he has no emotions of his own, Jack-Bot thrives upon the misery of men and women, using his superior robot knowledge to break them down into empty shells of their former selves. Essie Essex (talk) 02:07, May 27, 2013 (UTC)

8-bit Jack is an extremely aggressive and deranged mad scientist who's goal in life is to set off all of the world's nuclear bombs after Whataburger forgot to put pickles on his cheeseburger. Agent47JN (talk) 01:43, July 16, 2013 (UTC)
8-bit does not like to admit it, but he is really the champion of cyriodill who became sheogorath. the man with no plan 24 (talk)
Follow them.
Community content is available under
CC-BY-SA
unless otherwise noted.