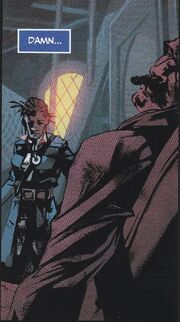 "Mildew and dust. And the smell of something else... Damn..."
—Officer Cottings upon finding Grindle's corpse
Titus Grindle is minor character introduced in the second issue of Dishonored: The Wyrmwood Deceit. He is the proprietor of an unknown business along Wyrmwood Way.
The Wyrmwood Deceit Issue 2
After being directed to Wyrmwood Way by Osric, Martha Cottings goes to talk to Grindle, believing he may have information about the weaponry being smuggled into the Old Port District. When the Watch Officer arrives, she finds Grindle deceased, having been killed a few days prior, and discovers a trap prepared for anyone investigating his premises.
Gallery
Community content is available under
CC-BY-SA
unless otherwise noted.