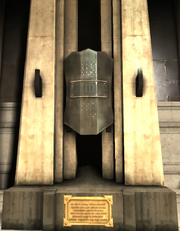 The Third Stricture is a book found in Dishonored and Dishonored: The Corroded Man.
Transcript
[Excerpt from a work detailing one of the Seven Strictures]
Restrict the Restless Hands, which quickly become the workmates of the Outsider. Unfettered by honest labor, they rush to sordid gain, vain pursuits, and deeds of violence. Of what value are the hands that steal and kill and destroy? Instead, put your hands to the plow, the fork, and the spade. For even the lowliest labor that is rigorous squeezes the muscles as a sponge, rinsing impurities from the mind and body.
Locations
In Dishonored, this book can be found:
In The Corroded Man, the excerpt with the exception of the last two sentences is quoted at the beginning of Chapter 3.
Community content is available under
CC-BY-SA
unless otherwise noted.