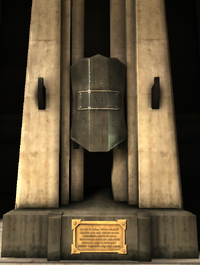 The Sixth Stricture is a book found in Dishonored and The Brigmore Witches.
Transcript
[Excerpt from a work detailing one of the Seven Strictures]
Restrict the Wanton Flesh. Truly, there is no quicker means by which a life can be upheaved and sifted than by the depredations of uncontrolled desire. What avail is the concourse of a prostitute? The attention of a loose companion? Nothing. And what of the fruit of such unions? Only sorrow is born, only misery is multiplied; within these things, the Outsider dwells.
Locations
Community content is available under
CC-BY-SA
unless otherwise noted.