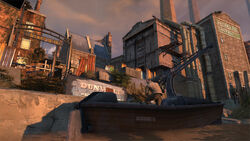 The Hound Pits Pub is a drinking establishment owned by Farley Havelock, which acts as the central hub for Dishonored. It is the headquarters of the Loyalists. Corvo Attano uses the Hound Pits as his base, where he prepares for missions.
According to Wallace, the building is around three hundred years old. Interestingly, the third floor of the building is inaccessible, with both the doors and windows bricked up.
Occupants
Trivia
There are many hidden items in and around the Hound Pits, such as the expensive rewire tool, available once Corvo has acquired the supernatural ability of Blink.
Videos
Community content is available under
CC-BY-SA
unless otherwise noted.