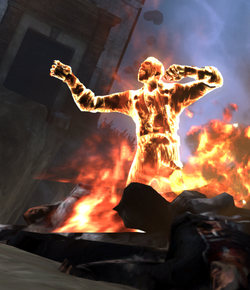 The Great Burning was an ongoing event that occurred in a historical time of conflict, predating the modern calendar. It is marked by the rise of a roving cult that grew to an enormous size. This nomadic army, intent on complete cultural destruction, went from city to city, destroying and burning while gaining new members as it traveled. It is possible that several figures marked by the Outsider were involved in this conflict; however, not much is known about the event, as it occurred a very long time ago and has been mostly eradicated from record.
The end of the Great Burning marks the beginning of the modern calendar.[1][2]
Trivia
References
Community content is available under
CC-BY-SA
unless otherwise noted.