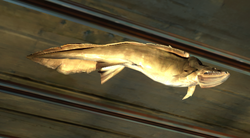 The Fishmonger's Cookbook is a book found in Dishonored 2.
Transcript
Hagfish Quenelles (Serkonan Fish Dumplings)
---
Ingredients
2 Hagfish, skinned, boned, de-wormed
Butter
Flour
3 Eggs
Salt
Cheese
Krust Stock (or any briny fish stock)
White Wine
Steps
Make a paste of the butter, flour, and eggs. Add salt to taste. Mince and pound the hagfish small, and combine into the egg paste.
Bring the stock to a low boil. Add the egg and hagfish mixture to the stock by large spoonfuls, and simmer for 30 minutes.
Arrange the boiled quenelles in a deep baking dish. Top with generous amounts of cheese and butter, and add the wine to the bottom of the dish. Bake until the cheese melts and the quenelles are fragrant.
Serve at once, with strong beer. Serves four.
Location
This book can be found in several locations:
Community content is available under
CC-BY-SA
unless otherwise noted.