World of Warcraft: Dragonflight - The Loop
Play Sound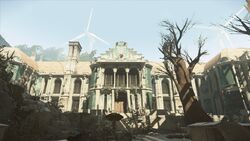 "Even magic is perverted here, and things don't work like they should."
—The Outsider
Stilton Manor, sometimes referred to as Stilton Mansion, is the residence of Aramis Stilton, located in the Dust District of Karnaca. The manor is unique in that it is an interstice between the natural world and the Void.
In an effort to return Delilah Copperspoon from the Void, Breanna Ashworth, Duke Luca Abele, Kirin Jindosh, Grim Alex and Stilton himself convene in a secret bunker within the manor. There, they partake in a séance in which they successfully resurrect Delilah. As a consequence of Delilah's abrupt return from the Void, however, a supernatural fissure is created, causing the Void to bleed into Stilton's home. The Duke promptly has Jindosh isolate and lock off the manor from the rest of the district, leaving Stilton alone in solitude and madness.
This leakage of the Void into the area gives way to an immediately discernible atmospheric shift on the manor grounds, with the times of the past and present overlapping at the focal point of the breach.
Gallery
Maps
Ground Floor
Present (ruined state)
Past
Altered Present (if Aramis Stilton was stunned)
Altered Present (Caruso Manor)
First Floor
Present (ruined state)
Past
Altered Present (if Aramis Stilton was stunned)
Altered Present (Caruso Manor)
Exterior
Present (ruined state)
Past
Altered Present (if Aramis Stilton was stunned)
Altered Present (Caruso Manor)