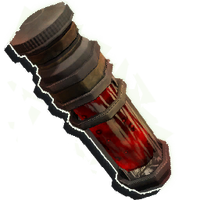 Sokolov's Elixir helps stave off the effects of the Rat Plague. It was the first of two anti-plague elixirs to be created, the other being Piero's Spiritual Remedy. It acts as a health potion in-game, restoring an amount of health when used.
Slackjaw and his thugs also make a bootleg version inside the Dunwall Whiskey Distillery, the vat in which it is made can be utilized free of charge, provided Corvo is carrying an empty vial or until the vat runs out of the elixir.
Gallery
Community content is available under
CC-BY-SA
unless otherwise noted.