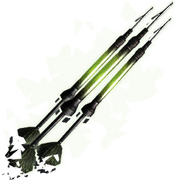 Sleep darts are a non-lethal type of ammunition, which Corvo Attano and Daud can use with the crossbow and wristbow, respectively. The sleep dart is counted in a separate slot than the standard crossbow bolt, allowing Corvo to carry ten sleep darts along with ten normal bolts at once, without upgrades.
The darts are filled with a plant-based chemical that causes unaware targets to fall unconscious instantly when shot. However, in battle the effects of the drug are delayed by a few seconds, unless Corvo purchases an upgrade that makes the drug's effect instantaneous in combat.
Regardless of how many times a target is hit by sleep darts, they will never be killed, but caution should be observed when attempting nonlethal action; when unconscious, enemies are highly susceptible to fall damage and may be killed if they are not on a safe, flat surface. Unconscious enemies may also be eaten by rats if left too near a swarm.
Trivia
Despite Corvo having the ability to upgrade the amounts of ammunition he can carry, this seems to exclude the sleep darts, which means that he can possess no more than ten at any time. However, Daud can carry up to 15 darts with an upgraded carrying capacity.
Sometimes enemies will spill blood when they are shot with the darts, but they will still be considered "unconscious".
Both Daud and the Royal Interrogator are immune to sleep darts. However, the former can be knocked out with it after he is defeated by Corvo in The Flooded District.
Sleep Darts can be found as individual darts or in bundles. Despite the fact that they appear to be three darts wrapped together, the "bundles" only add two darts to the inventory total.

If the "Scavenger" bone charm is equipped, there is a 50% chance to obtain three darts from a bundle.
Gallery