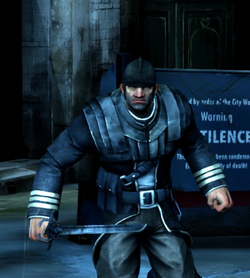 "HAHAHAHA! That never gets old!"
—Sergeant Heyburn, as a rat gets disintegrated by a Wall of Light
Sergeant Heyburn is a minor character and a member of the City Watch who appears in Dishonored during the mission, High Overseer Campbell.
Heyburn is a City Watch Guard assigned to patrol and protect area 72 N85, otherwise known as the Distillery District. He is found along John Clavering Boulevard in the area by the second wall of light where the thoroughfare splits, heading to both Holger Square and the Golden Cat.
He appears to be the ranking officer patrolling John Clavering Boulevard, as he gets his orders directly from Captain Geoff Curnow. Despite this responsibility, Heyburn continues to participate in the foolish game known as 'Rat Burning' - a practice whereby he or one of the watchmen under his command will toss a live rat into a wall of light, even though he has been expressly forbidden from doing so.
Trivia
Sergeant Heyburn does not appear to be well-respected by his men, one of whom tells him to "blow off" right to his face.
Heyburn seems to be a 'lead from the rear' type of commanding officer, as he is typically the first person to run to the alarm while his men engage intruders.
Gallery
Community content is available under
CC-BY-SA
unless otherwise noted.