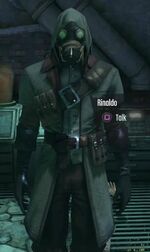 Rinaldo Escobar was one of Daud's assassins, having gained a level of supernatural abilities by use of Arcane Bond. However, upon Daud's disappearance in 1837, along with Thomas and Billie Lurk, Rinaldo was stripped of his arcane abilities, and ended up working as an assistant to fellow former whaler Galia Fleet, as security personnel in the Golden Cat.
Dishonored
During the events of Dishonored, Rinaldo worked as a novice assassin under Daud, and was tasked to infiltrate the Brigmore Manor. It is known from a letter that he possessed similar abilities to Daud, such as transversals and an improved resistance to toxins. Daud had promised Rinaldo a large share of the cut, enough to supposedly allow him to "build a fine home in Serkonos".
Dishonored: The Corroded Man
Between 1837 and 1851, Rinaldo ended up working with Galia as an assistant to her security management in the renovated Golden Cat.[1] When Zhukov made himself known to the Cat's patrons, Rinaldo unsuccessfully tried to fight him, only for Zhukov to reveal his supernatural abilities. With Galia interested in Zhukov's powers, Rinaldo followed her to Greaves Auxiliary Slaughterhouse 5, an abandoned slaughterhouse and refinery in Slaughterhouse Row. Despite his concerns regarding Zhukov's presence, as well as his creation of bone charms and trinkets made from human remains, Rinaldo continued to work with Galia, up until the heist at Brigmore Manor.
At Brigmore Manor, Rinaldo attempted to help Galia steal the bones of the dead Brigmore Witches from the crypt, but he was subdued by Corvo Attano's agents and Slackjaw's men. Succumbing to interrogation at the hands of both Corvo and Slackjaw, Rinaldo eventually revealed the next target of Zhukov and Galia's operations - the annual Boyle Masquerade Party.[2]
Trivia
Rinaldo, like Corvo Attano, hails from Karnaca in Serkonos.
His name was first revealed in a note written by Daud.
He had a scar over his left eye which he was given in a battle while he was a Whaler.

In this same battle, Galia saved Rinaldo's life.

He can be summoned as a novice assassin in The Knife of Dunwall and The Brigmore Witches.
References
↑ Dishonored: The Corroded Man, p. 32
↑ Dishonored: The Corroded Man, p. 191
Community content is available under
CC-BY-SA
unless otherwise noted.