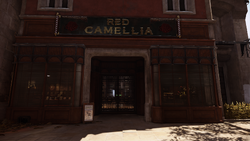 The Red Camellia is a tattoo and beauty parlor located on Malveros Victory Plaza in Upper Cyria. Open since at least 1848, it is owned and run by Eolina Rey.[1] Members of the Eyeless are regular attendees as all tattoos for the Eyeless gang are done there.
Description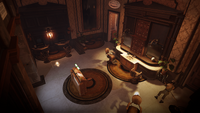 After seeing the window displays outside, clients entering the Red Camellia are faced with a reception desk in the center of the room. Lining the three other walls are salon chairs, sinks, mirrors and desks full of salon equipment such as towels, brushes, and shampoos. The doorway on the left of the back wall leads to a storage corridor. At the far end of this corridor is the back door; to the left is a bolted door leading to a passageway back to Malveros Victory Plaza.
The door to the right of the back wall in the main room leads to the tattoo chair and office. Due to the private nature of some of the items in this area, only authorized people are allowed to enter. New clients are required to have recommendations from past clients.
Standard Services
Scissored Hairdressing - Wash, Trim & Set - 25 coin
Serkonos Mineral Wash - Wash, Rinse & Set - 60 coin
Full-Spectrum Hair Tinting - Vibrant Tints Add Luster to Your Locks - 75 coin
Signature Treatments
Fetal Rat Paste Facial - Attain a Glowing Complexion - 225 coin
Living Leech Treatment - Draw Out Your Inner Beauty - 250 coin
Addermire Solution Injections - Ease the Ravages of Time - 300 coin
Karnaca Spa Package: Let your beauty flower with a day at the Camellia! Your choice of manicure, pedicure, massage, and choice of facial treatment. *Reservations are limited*
Gallery
References
Community content is available under
CC-BY-SA
unless otherwise noted.