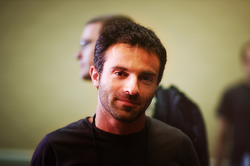 Raphael Colantonio is the founder, CEO, and creative director of Arkane Studios. He was co-Creative Director of Dishonored, along with Harvey Smith. He left the team in Lyon, France, and the development of Dishonored 2 to head Arkane's newest studio in Austin, Texas, where he was Creative Director of Prey. He announced stepping down from Arkane Studios on June 27, 2017.[1] Harvey Smith took over the direction of the Austin studio while Colantonio will stay at the Lyon location to help it transition to new management.[2]
Other Work
Colantonio is credited for his work on Arx Fatalis, Dark Messiah: Might and Magic, Call of Duty: World at War, BioShock 2, and other games.
References
Community content is available under
CC-BY-SA
unless otherwise noted.