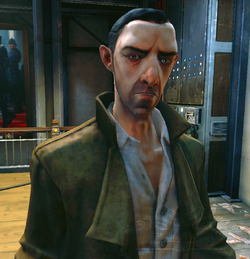 The Propaganda Officer reads the news and announcements from the broadcast station in Dunwall Tower. He can be encountered by Corvo Attano during the mission Return to the Tower. He provides the non-lethal solution to handle the Lord Regent, Hiram Burrows, by telling Corvo of an incriminating audiograph made by Burrows that can be played over the broadcast system. He will also provide Corvo with the combination to the safe where it is kept.
Transcripts of all loudspeaker announcements can be found here.
Trivia
If the Propaganda Officer is killed, a female announcer will take his place.
The male Propaganda Officer is voiced by Gregg Berger, while the female Propaganda Officer is voiced by Carrie Fisher.
Audio
Male Announcer
Female Announcer
Gallery