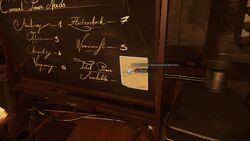 Powering the Electroshock Machine is a written note found in Dishonored 2.
Transcript
Note to self:
There is insufficient power to operate the electroshock machine. Until this is rectified, I will have to compensate, freeing up more power for the electroshock machine by configuring the other laboratory platforms so they draw the least power.
Location
This note can be found in Jindosh's laboratory, pinned to his chalkboard, inside the Clockwork Mansion during the mission of the same name.
Trivia
The reading of this note is one way that the protagonist can be provided with the opportunity to eliminate Jindosh non-lethally.
Community content is available under
CC-BY-SA
unless otherwise noted.