World of Warcraft: Dragonflight - The Loop
Play Sound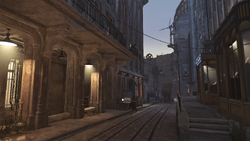 The Palace District is the district of Karnaca neighboring the Grand Palace. Located on Point Abele in Karnaca Bay, it features several businesses like a Winslow Safe Company shop, the pawnbroker shop of Esteban Nemos, and also dwellings of high standing. The old apartment[1] of Lucia Pastor is located at the end of Ravina Boulevard, the main thoroughfare. An umberwood tree can be found in the middle of the boulevard, which is surrounded by plates engraving with the mottos of various dukes and duchesses of Serkonos.
Amparo Plaza can be found on the West side of Ravina Boulevard, while Callas Cove is on the East side, where a fish market is located. A rail car line connects the district to the ducal palace and the rest of the city. The district is guarded by a unit of Grand Serkonan Guard called "Palace Civil Patrol", which maintains order and serves as the outer perimeter security for the palace.[2]
Dishonored 2
During the events of Dishonored 2, a new wall of light is constructed on Ravina Boulevard, as well as a watchtower. In addition, all apartments with balconies overlooking Ravina Boulevard and the newly installed wall of light are seized by the Grand Guard for security purposes,[2] while citizens must produce appropriate papers when asked. Failure to comply results in on the spot fines and even jail time.[3]
Gallery
Reference