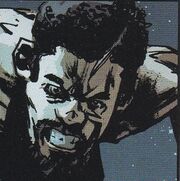 " Officer Cottings! Always a pleasure to help the brave men and women of the Watch!"
—Osric during a running fight with Officer Cottings.
Osric is a minor character and member of the criminal underworld who is first introduced in the second issue of Dishonored: The Wyrmwood Deceit.
The Wyrmwood Deceit Issue 2
Watch Officer Cottings goes to interrogate Osric about exotic weaponry being smuggled into the Old Port District. However, he is less than cooperative and a running fight across rooftops ensues.
Trivia
Cottings and Osric seem to know each other, as she searches for him while he calls her by name during their running battle before she has a chance to utter it.
Gallery