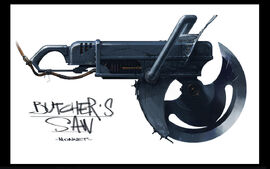 Operating a Butcher's Saw is a book found in The Knife of Dunwall.
Transcript
[Excerpt from a company pamphlet]
First, a reminder: All equipment within the Rothwild Slaughterhouse is the sole property of Mister Bundry Rothwild himself leased to an individual worker on a per-shift basis. A Butcher's Saw is not to be equipped and used without proper training and authorization. Misuse of the equipment could result in disfigurement or death.
The saw itself is composed of three systems: power supply, cutting blade, and chip ejector. The reciprocating blade is cast of hardened steel and, when properly maintained, provides severe sharpness. It is crafted to slice flesh, but will cut bones with ease. The mechanism for powering the blade is a harness supporting custom-sized tanks for whale oil, capable of driving the saw for an entire shift before refueling is required. Care must be take [sic] not to strike, heat or electrify these tanks. The ejector is a new modification, casting out a stream of flat blade fragments. Since the girth of a whale often exceeds a Butcher's reach, the ejector allows for blasting away unwanted offal or breaking down dense bone at a distance.
Location
It can be found in the Rothwild Slaughterhouse in the locker room during A Captain of Industry.
Community content is available under
CC-BY-SA
unless otherwise noted.