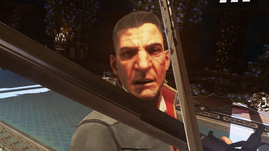 Note to Beesley is a written note found in Dishonored 2.
Transcript
You've come this far with me, Beesley, don't get clammy feet now, man. Delilah is our rightful Empress, or will be soon, I promise. And the Duke will make sure we're properly compensated for our part in orchestrating this coup.
I have men across the City Watch, and let's just say certain stubborn Emily Kaldwin supporters are being arrested even as I pen this note. On top of that, the Duke will be bringing over a hundred from the Grand Guard.
Now do your part! And shred this note as soon as you've read it. Put it down the toilet.
Location
The note can be found in the dumpster behind the Boyle Industries office during the mission A Long Day in Dunwall.
Community content is available under
CC-BY-SA
unless otherwise noted.