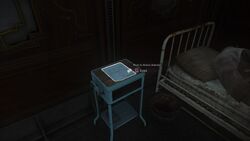 Note to Anton Sokolov is a written note found in Dishonored 2.
Transcript
My Dear Anton,
I hope the sound of the Clockwork Soldier outside your cell doesn't disturb your rest. I find the solid footfalls and gentle electric hum to be soothing, but you may be of a different opinion. In fact, in your condition, the noise might be maddening, especially since the pressure plate for the exit of your cell is positioned tantalizingly within reach.
But should you attempt to venture forth from the assessment chamber, like some wrinkled, gray whiskered rat hunting through a labyrinth for a morsel of cheese, you will soon find your stoic guardian bearing down on you. You're an intelligent man. I'm sure I don't need to illustrate what those honed edges would do to your ancient and haggard body.
Location
This note can be found beside Anton Sokolov in the Assessment Chamber in the Clockwork Mansion during the mission of the same name.
Community content is available under
CC-BY-SA
unless otherwise noted.