No Man's Sky Update - The Loop
Play Sound
"It must be, though. Lawyers know these things. Maybe they give it to children."
—Melissa to a maid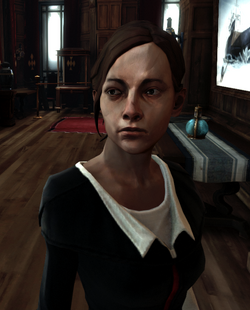 Melissa is a minor character featured in the second mission of The Knife of Dunwall.
Biography
As a maid working in the Timsh Estate, Melissa's current employer is Barrister Arnold Timsh, and her duties include keeping his home and business areas clean and in order. Of the two servants encountered in Timsh's Estate, Melissa has a broader range of responsibilities, as she can be seen cleaning all areas of the house from the basement kitchen area to the bookshelves on the fourth floor.
She does not live at Timsh's residence, as there are no servants' quarters there. Instead, she lives with her husband in a different area of the city - past "the old walls" - and requires a coach to safely go to and from work.
Melissa is shown to have a kind and caring personality, as she can be heard inquiring about the continued health of the Barrister's mother and of the current situation of the plague in the city. Melissa's naivete is revealed during a conversation she has with another maid, in which they discuss Barrister Timsh and the wealth he has built up by seizing the assets of "plague victims". Though the other maid thinks differently, Melissa suggests that maybe Timsh gives the money to children.
The Knife of Dunwall
Melissa has attracted the attention of her employer, Barrister Timsh, and Timsh tries to gain her fancy by being kind to her, as evidenced in a discarded note found on the third floor. Melissa, being very kind and a bit naive, does not realize Timsh's intentions, and in a conversation between the two, the Barrister resorts to threatening her after his initial attempt at flattering her fails.
In Timsh's quarters, Melissa can be witnessed with the Barrister, who tries to convince her to stay overnight with him at the estate. Timsh even goes as far as to make her usual coach unavailable for her to safely travel home, despite the weepers wandering the area. Though Melissa mentions her husband to Timsh, once the Barrister threatens her job, she grudgingly agrees to stay the night at the estate and has a drink afterwards to settle her distraught nerves.
Trivia
Despite her quiet and unassuming demeanor, she is bullied by an estate officer on the second floor. She is shown to hold contempt for him and calls him a "bastard" once out of his earshot.
Gallery
en:梅利莎