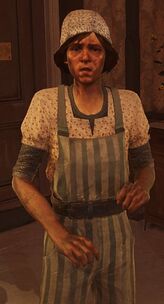 Martina is a minor character in Death of the Outsider. An employee at the Red Camellia, her main job is to clean the place.
Biography
Shortly before the mission Follow the Ink, Martina used a disinfectant made from krust-shell powder, despite having been told many times by Eolina Rey, owner of the parlor, to not use it as it damages the equipment and can cause weeping blisters on clients. As a result, Lady Cottington's massage did not go as planned, so Rey shut the parlor and instructed Martina to deep clean everything.
Death of the Outsider
When Billie Lurk enters the Red Camellia during the mission Follow the Ink, Martina is inside sweeping. She seems happy and can be overheard singing, despite being told she would not get paid for the day's work.
Trivia
Community content is available under
CC-BY-SA
unless otherwise noted.