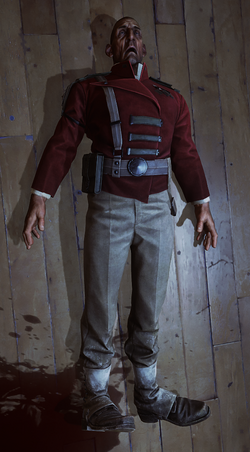 Major Bonville is a minor character and former member of the Grand Serkonan Guard in Dishonored 2.
Biography
Major Bonville was contacted by Breanna Ashworth to assist her in tracing down all members of the Grand Serkonan Guard who were at Stilton Manor on the 16th Day of the Month of Rain in 1849, the night an occult ritual occurred. Ashworth wanted to prevent any of those members from telling anybody what they had seen. Bonville helped Ashworth track down those guards, with the final one having made his way to Meya in western Tyvia.
After having found this last guard, Bonville was no longer of any use to Ashworth, and Ashworth feared that he knew too much. She sent him a letter thanking him for his help, and included a flask of poisoned liquor. Drinking it without realizing that it was deadly, Bonville's painful death throes knocked over lots of the furniture in his room.
His corpse can be found face-down on the floor in his third-floor apartment in the Lower Aventa District.
Trivia
Gallery
Community content is available under
CC-BY-SA
unless otherwise noted.