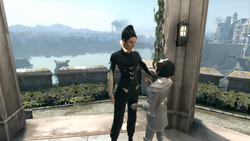 Letter to Emily from the Empress (Dishonored) or To my dear Emily (Dishonored 2) is an audiograph recorded by Jessamine Kaldwin.
Transcript
Emily, my daughter, I know that one day you'll be grown up, and I wonder what you'll remember of these years. Will you recall your time as a child with fondness? Or were there too many caretakers, formal dinners and lessons about boring old history? Maybe the precious hours we spent together will shine brighter - time captured now and then with your mother and with Corvo, who was always close to my heart. I hope the season of rats and plague will be nothing more than a passing shadow on your early memories. A crisis come and passed, weathered by your mother and her advisors. You'll sit on the throne someday, and will do well I hope. It's a tricky life, full of responsibility and peril. It was not your choice to be the daughter of an Empress, but I believe you'll rise to the challenge. Stay good-hearted, Emily. Keep drawing and telling stories. And only share your power with those you truly trust.
Location
Community content is available under
CC-BY-SA
unless otherwise noted.