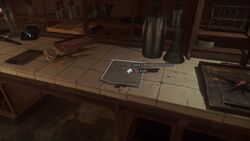 Letter to Bloodfly Fever Patient is a written note found in Dishonored 2.
Transcript
My sweet Albina,
How good to hear from you! When I left you in the doctors' hands you were so feverish you couldn't even say goodbye. The sting marks, so many of them; just remembering fills me with dread. I'm glad Dr. Hypatia could at least make the symptoms a little more bearable.
Now I don't want you to worry about those awful things you said. Of course you're going to be better, of course you'll survive! The children need you, and how could I go on living without you? Little Benito keeps having nightmares about bloodflies devouring our whole family, so I promised him you'd be back soon, and that no bloodflies would ever attack us again. We baked mulberry biscuits this morning, so I'm sending you a little box of them with this letter. I hope we'll be able to visit you soon.
Please don't give up! I love you more than anything.
- Jeremy
Location
The note can be found on the counter just outside Doctor Bartholomeus Vasco's office at the Addermire Institute, during the mission The Good Doctor.
Community content is available under
CC-BY-SA
unless otherwise noted.