World of Warcraft: Dragonflight - The Loop
Play Sound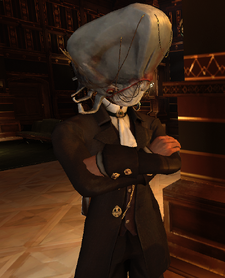 "I'll have you know, I'm as gentle as I need to be in any given situation. As I think I've proven."
—Ramsey to Miss White
Doctor Jack Ramsey is a noble and a guest at the Boyle Mansion during Lady Boyle's Last Party, wearing a whale-like mask.
When first encountering Ramsey, Corvo Attano can listen in on a conversation between him and Miss White, wherein Ramsey flirts with her and offers to help her flee to Serkonos if she will agree to be with him. Corvo can then interrupt them, making Ramsey visibly angry. If Corvo meets him again and bothers him too much, Ramsey will alert an officer to Corvo's presence.
During the events of The Knife of Dunwall, Ramsey apparently hires a group of industrial saboteurs to sow seeds of unrest at the Rothwild Slaughterhouse, engineering a strike in order to disrupt the business. According to the plan outlined by Abigail Ames and a fisherman near Slaughterhouse Row, Bundry Rothwild's laborers were to be offered work in Ramsey's own facility when Rothwild went under.
Trivia
Ramsey seems to have a prior relationship with Miss White, likely of a romantic or sexual nature based on his remarks.
Miss White suggests that, despite his aristocratic appearance and status, he is in financial straits in reality, with the Boyles owning his estate.
The whale-mask Ramsey is wearing at the Boyle's party could be an indicator for his whaling business mentioned in The Knife of Dunwall.
Jack Ramsey is related to Mortimer Ramsey.[citation needed]
Gallery