watch 02:44
The Loop (Games)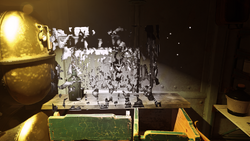 "She can see it all. The Void breaking and spreading through all the cracks, like seawater sinking an old ship."
—The Outsider's comment at the first hollow
Hollows are small holes in the world where the Void is leaking through. Thanks to the Sliver of the Eye, Billie Lurk can see these gaps, giving her glimpses of what is and what could be. The Black Shard Arm can interact with the hollows, prompting a comment from the Outsider. Because of the Eye of the Dead God, the Cult of the Outsider can also see the hollows, and have made a study of them. However, they cannot interact with them like Billie can.
Visually, hollows appear as a certain object, usually a poster, flickering and jumping around, being replaced with different versions of itself or with other objects entirely. These different versions or objects come from alternate timelines.
Locations and comments
Follow the Ink
The Bank Job
The Stolen Archive
A Hole in the World
Trivia
Gallery
Community content is available under
CC-BY-SA
unless otherwise noted.