Line 12:
Line 12:
 

*Corner of [[Streets of Karnaca#Duchess Lisandra Avenue|Duchess Lisandra Avenue]] and Canal Passage: ''"I've seen the bones these places are built on. I've seen them under the mud in the riverbanks, under the stones in the streets. It will all shudder and writhe."''

 

*Corner of [[Streets of Karnaca#Duchess Lisandra Avenue|Duchess Lisandra Avenue]] and Canal Passage: ''"I've seen the bones these places are built on. I've seen them under the mud in the riverbanks, under the stones in the streets. It will all shudder and writhe."''

 

*Next to the [[Spector Club]] entrance: ''"All the old boundaries are falling apart. Between the living and the dead, the real and the forgotten. She watches them crumbling."''

 

*Next to the [[Spector Club]] entrance: ''"All the old boundaries are falling apart. Between the living and the dead, the real and the forgotten. She watches them crumbling."''

−

*Across the street from [[Businesses#Dolores Michaels Deposit & Loan Bank|Dolores Michaels' Deposit & Loan Bank]]: ''"The waves break against the shore, and threaten everything they have built. The cower, fearful, and try to halt the tides."''

+

*Across the street from [[Dolores Michaels Deposit & Loan Bank]]: ''"The waves break against the shore, and threaten everything they have built. The cower, fearful, and try to halt the tides."''

 
 
 

==Gallery==

 

==Gallery==
---
Revision as of 01:59, 22 September 2017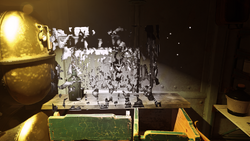 "She can see it all. The Void breaking and spreading through all the cracks, like seawater sinking an old ship."
—The Outsider's comment at the first hollow
Hollows are small holes in the world where the Void is leaking through. Thanks to the Sliver of the Eye, Billie Lurk can see these gaps, giving her glimpses of what is and what could be. The Black Shard Arm can interact with the hollows, prompting a comment from the Outsider.
Visually, hollows appear as a certain object, usually a poster, flickering and jumping around, being replaced with different versions of itself. These different versions come from alternate timelines.
Locations and comments
Follow the Ink
The galley of the Dreadful Wale: "She can see it all. The Void breaking and spreading through all the cracks, like seawater sinking an old ship."
Inside the gate to Upper Cyria: "We carry what was done to us through the rest of our endless days. No one asked if we wanted it."
Corner of Duchess Lisandra Avenue and Canal Passage: "I've seen the bones these places are built on. I've seen them under the mud in the riverbanks, under the stones in the streets. It will all shudder and writhe."
Next to the Spector Club entrance: "All the old boundaries are falling apart. Between the living and the dead, the real and the forgotten. She watches them crumbling."
Across the street from Dolores Michaels Deposit & Loan Bank: "The waves break against the shore, and threaten everything they have built. The cower, fearful, and try to halt the tides."
Gallery