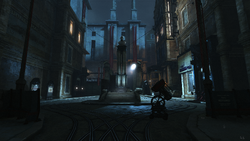 Holger Square is a location off John Clavering Boulevard that contains the Office of the High Overseer. Corvo Attano visits the Square during the High Overseer Campbell mission, both to access the Offices, and to rescue Loyalist Teague Martin from confinement in the stocks.
History
Before the Abbey of the Everyman claimed this place as their headquarters, it was once the site of Dunwall's most squalid tenement, a single sprawling block of apartments so crowded and miserable that only those who truly had no choice would live there. When the Abbey came to Dunwall to bring enlightenment to all, they began their works by razing the tenement to the ground, erected their new headquarters, and renamed the area after Benjamin Holger, former High Overseer and founder of the Abbey.[1]
During the Rat Plague, Holger Square was perhaps least affected, compare to other areas in Dunwall. The powerful Abbey protected its leaders from famine, other shortages, and to some extend from the "physical contact which spread the disease so swiftly among the less fortunate". Poor and desperate people flocked here in order to seek comfort and guidance, and were received by the Abbey, albeit from a safe distance.[1]
Gallery
References