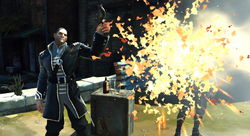 Havelock's Log: Entry Three is an audiograph found in Dishonored, recorded by Admiral Havelock.
Transcript
Corvo's proved his abilities, beyond question. It's not anyone who can walk into Holger Square and put down the High Overseer. And now we're faced with the question, could he be dangerous? Events are going to move quickly now. The storm's rising.
Location
The audiograph can be found in Havelock's bedroom at the Hound Pits Pub after the mission High Overseer Campbell.
Trivia
After this entry appears, Havelock's audiograph machine is next seen in the possession of Samuel Beechworth.
Community content is available under
CC-BY-SA
unless otherwise noted.