World of Warcraft: Dragonflight - The Loop
Play Sound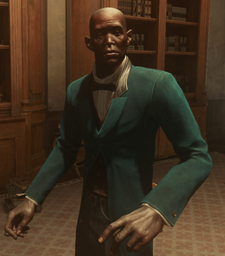 Hadros is a wealthy Karnacan aristocrat in Dishonored 2.
Biography
Hadros is an arrogant man, used to getting what he wants when he wants, without accepting failure.[1] He is rather impatient and is so astounded by being kept waiting in the Clockwork Mansion that he describes the experience as "almost titillating".
Dishonored 2
Hadros is invited into the Clockwork Mansion by Kirin Jindosh as he intends to buy one of Jindosh's Clockwork Soldiers.[2] After his arrival, Hadros is told to wait in the waiting room for Jindosh's arrival where he will spend his time talking to fellow aristocrat and buyer Mrs. Vivienne. This is where he can be found during the time Corvo Attano or Emily Kaldwin infiltrate the mansion.
Trivia
The chamber Hadros is located in can be lowered to the mansion's assessment chamber, prompting a conversation between Mrs. Vivienne and himself about the Clockwork Soldier in the assessment chamber.
If the carriage was left at Upper Aventa when approaching the mansion, when exiting it with the unconscious Anton Sokolov, a civilian will be standing close to a carriage at the mansion stop. He is carrying a note from Hadros instructing him to bring the carriage to the mansion and wait there for him after completing his chores in order, presumably to pick them up after inspecting the Clockwork Soldiers later that day. This would help explain why the carriage is not still parked at the signals of Upper Aventa by the Grand Guard Office but ready at the mansion stop on exiting.
Gallery
References