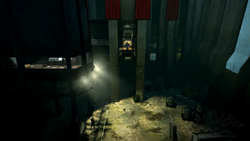 Escape Plans is a written note found in The Brigmore Witches.
Transcript
When you hear the alarms in the courtyard tonight make a break for the front gate. Jump from the bridge and swim to the sewer entrance. You won't get another chance now that the Empress's assassin has escaped.
Watch out for the rats.
Location
It can be found in Coldridge Prison above the hallway leading to the cell door control room.
Community content is available under
CC-BY-SA
unless otherwise noted.