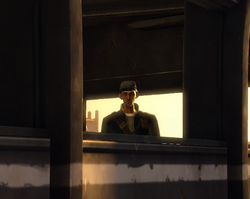 "I'll pay you when you explain how it is I lost when I had a flippin' Royal Dunwall?!"
—A disgruntled Earl about a recent game of Nancy
Earl is a minor character and Watch Lower Guard who appears in Dishonored during the mission The Royal Physician. He is a member of the City Watch of Dunwall, and has been tasked with guarding and maintaining Kaldwin's Bridge.
Dishonored
During the time when Corvo Attano seeks to kidnap Anton Sokolov for the Loyalists, Earl has been assigned to one of the bridge guard stations at the base of the bridge itself along Drawbridge Way. With a commanding view of the Wrenhaven River, Earl, along with other City Watch guardsmen, defends against river pirates and members of the Bottle Street Gang.
He can be found in the bridge guard station having a conversation with a City Watch Guard with whom he often plays games of Nancy and currently owes money to.
Trivia
He has recently lost a game of Nancy and is still pondering how, as his companion explains to him the ranking of the hands within the game. In the case under dispute, Earl's Royal Dunwall was beaten by his companion who had the Lord Regent's Purse, the only hand better than a Royal Dunwall.
Gallery
Community content is available under
CC-BY-SA
unless otherwise noted.