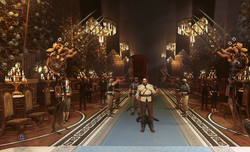 Duke Abele Essential In Dunwall Coup is a newspaper article found in Dishonored 2.
Transcript
Karnaca's own Duke Luca Abele reportedly played a key role in the recent coup that unseated the unpopular Emily Kaldwin. Our new Empress, Delilah Kaldwin, made quick work of dissenters and has already issued several proclamations, which are sure to be welcomed in Dunwall after the failed reign of Emily Kaldwin, known for shirking her duties in favor of more pleasurable pursuits, and now blamed for orchestrating multiple assassinations against her critics.
The coup is sure to increase our fortunes here in Karnaca, as Delilah Kaldwin has strong ties with Duke Abele. Serkonos in now expected to rise in wealth and power within the Empire! There are ongoing reports of lingering unrest in Dunwall, as those who remain loyal to Empress Emily's corrupt reign are dealt with.
Location
The newspaper article can be found in multiple locations.
Community content is available under
CC-BY-SA
unless otherwise noted.