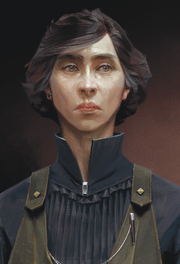 Doctor Hypatia to Resign says Grand Palace is a newspaper article found in Dishonored 2.
Transcript
A statement issued from the Grand Palace today, signed by Duke Abele, indicates that Doctor Alexandria Hypatia has resigned from her position as Chief Alchemist at Addermire Institute for issues concerning her health. Additionally the statement advises the Addermire will remain closed for the foreseeable future. The statement did not mention the fate of the various cures Doctor Hypatia has been developing.
Readers will know her popular "Addermire Solution," which is said to help miners with their work-related maladies, as well as combating bloodfly fever.
Location
The newspaper article can be found on the first floor of the Grand Guard Office in the Upper Aventa District, during the mission The Clockwork Mansion, if the protagonist used the non-lethal method to eliminate Hypatia in the previous mission. Otherwise, there will be an alternative article.
Community content is available under
CC-BY-SA
unless otherwise noted.