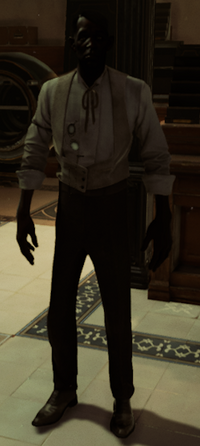 Cyrille is a minor character in Dishonored 2 and owner of the Winslow Safe Store at the Campo Seta Dockyards in Karnaca. He is a good personal friend of Doctor Alexandria Hypatia.[1]
Dishonored 2
Before Duke Luca Abele forced Hypatia to remain at the Addermire Institute, she asked Cyrille to look after the plants in her apartment, just above his shop. Hypatia trusts Cyrille enough to give him the key to her apartment,[1] which contains some very valuable items, including a Sokolov painting. Cyrille does his best to look after her plants, but worries about Hypatia, having not seen her in a long time.[2]
Cyrille is also responsible for the competition the safe store is running, where the visitor who guesses the code to a safe gets to keep all that they find inside. He says that none of them will ever guess the code correctly, but will talk to their friends about it and encourage more guests into the shop.[3]
Trivia
Cyrille cares for someone called Caroline, to whom Hypatia wishes a speedy recovery.[2]
Cyrille will not react to Corvo Attano or Emily Kaldwin stealing the code to the safe from the cash register and using that to open the safe.
Gallery
References
Community content is available under
CC-BY-SA
unless otherwise noted.