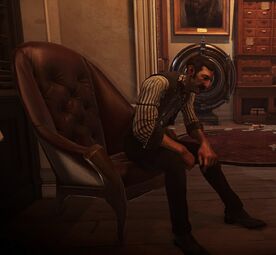 Cristofer Jeorge is a character in Death of the Outsider.
Biography
Cristofer Jeorge is the editor at large at the Karnaca Gazette. He lives in Upper Cyria, near the Dolores Michaels Deposit & Loan Bank. After Jeorge was approached by Lucia Pastor, who asked him to investigate the alarming number of illegal foreclosures made by the Michaels Bank, he soon connected this case to the murder of pharmacist Eleuterio Cienfuegos [1]. From documents in possession of Cienfuegos' daughter Teresia, Jeorge soon came to suspect city administrator Ivan Jacobi of the murder. While investigating the Spector Club, where several items of Cienfuegos' possession were sent to Jacobi, Jeorge also asked several questions about the so-called "sanguine infusion" and about Jacobi himself. He was, however, overheard and Jacobi was warned that Jeorge was investigating him. As a result, Jacobi sent thugs to Jeorge's home to beat him up and threaten him into dropping the investigation.
Death of the Outsider
When Billie Lurk enters Jeorge's house during the mission Follow the Ink she can find the journalist, still recovering from the beating. He informs Billie that he suspects Jacobi of the murder of Cienfuegos and asks Billie to provide him with proof. If Billie brings Jeorge proof of Jacobi's guilt, Jeorge will immediately start to write an article displaying Jacobi's crimes. The article is published in the next print and as a result, Jacobi is arrested and later killed by his partners. To reward Billie, Jeorge tells her the combination of his safe.
In the mission The Bank Job, it is revealed that Jeorge, fearing for his life, has sent his notes about his Jacobi investigation to his private lockbox at Dolores Michaels Deposit & Loan Bank.
References
↑ Journalist's Lockbox Notes
Community content is available under
CC-BY-SA
unless otherwise noted.