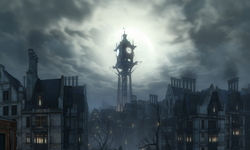 The Clocktower of Dunwall stands out significantly among the city's many old and crumbling buildings. It has a large metal lattice-style of architecture, which likely holds in the clocktower's mechanisms, and it can be seen from almost anywhere in Dunwall due to its elevated position, the Estate District having an especially clear view of the small clock face.
Trivia
The Clocktower is based on London's Elizabeth Tower, often referred to as Big Ben.
Given its unusual metal design it is likely that the clocktower was constructed some time after the beginning of Dunwall's period of industrialization.
During Corvo's time in the Estate District, the clocktower rings four times at regular intervals.
The Clocktower's bell sound is identical to the bell sound in Team Fortress 2 used for halloween maps.
The Clocktower can be fully seen in the Void during the introduction of The Knife of Dunwall, None Like Her.
The Clocktower was originally intended to be part of a Parliament mission that was cut from the final game.[1]
Gallery
References