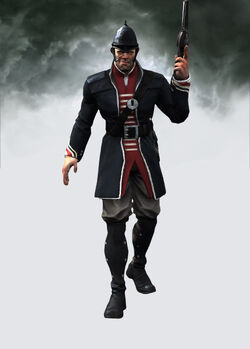 City Watch Officers are protectors of the Lord Regent, Hiram Burrows, and other important aristocrats. They carry a sword and a pistol with them, and act as leaders to the rest of the City Watch, being slightly tougher by comparison.
They prefer to fight with their pistol than with their sword, but they are still competent melee fighters, being able to block and kick Corvo away. Accompanying this, they can occasionally dodge his strikes, even after a successful block on his part.
Even a few officers are enought to take down an unprepared Corvo easily. While engaging combat, be careful not to be shot by surrounding officers, as this does not only damage you, but also interupts your attacks and blocking as well.
You can take advantage of their guns by lining up enemies in front of Officers (narrow corridors work well for example). Often shots fired by the Officer will hit other guards, damaging them
Notes
When using their pistol, officers will take a short pause to aim at you before they fire. Corvo can use this short period of time to attack them and disrupt their action.
Gallery
Community content is available under
CC-BY-SA
unless otherwise noted.